Little Simz is your new favourite UK rapper you've probably never heard of. This may sound like grossly exaggerated hyperbole or a bold claim that can't be backed up, but I assure you that it's true: I walked in to the release party for her phenomenal sophomore album, Stillness in Wonderland, with a fairly casual interest in her music and emerged a few hours later a diehard fan eager to spread the gospel to anyone who would listen to me. What makes her so special, you ask?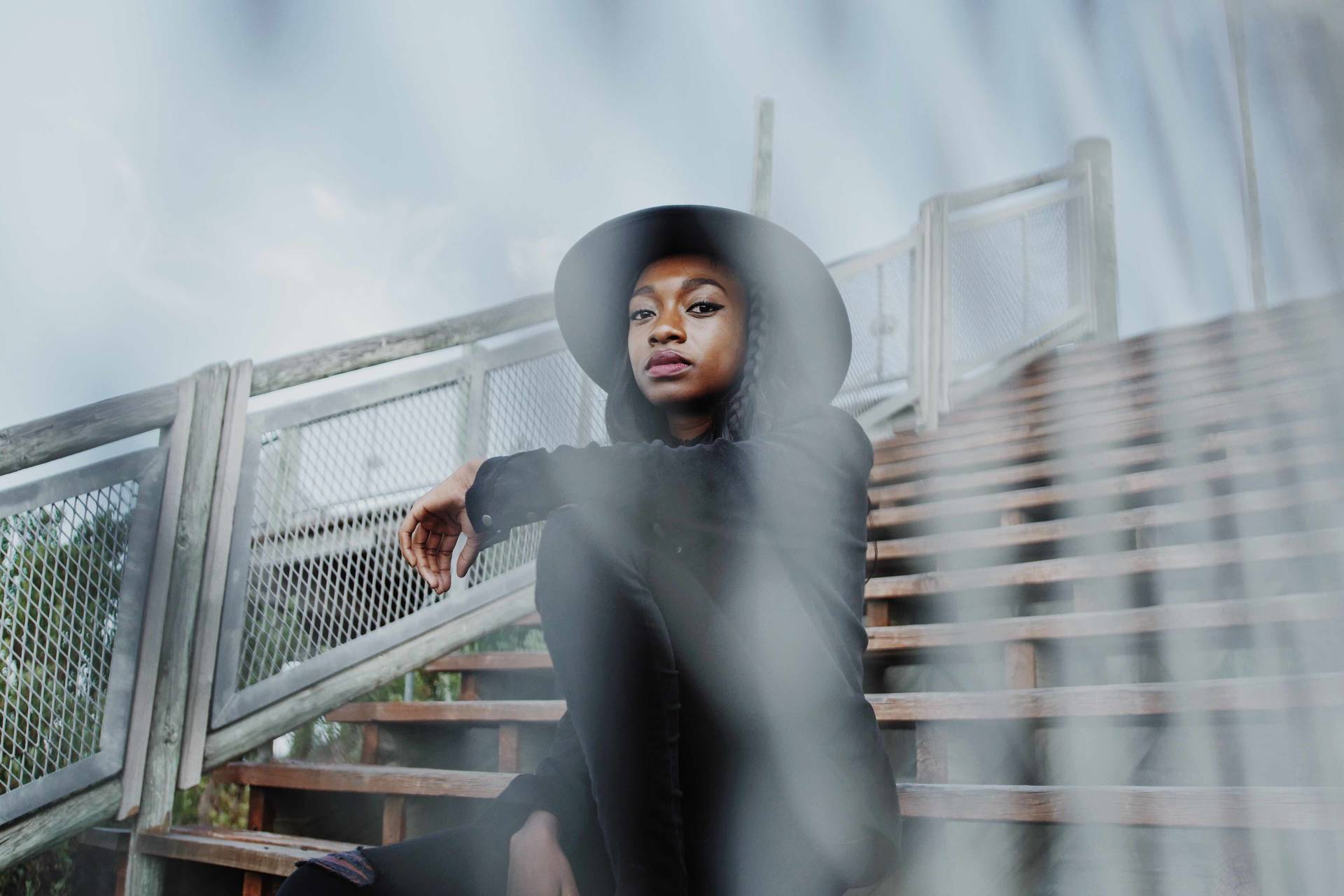 First off, she can SPIT. Rap is undergoing a pretty interesting change at the moment with the very definition of what counts as 'rap music' morphing and, for better or worse, there's been less of a focus on sheer technical skill and more of a focus on the overall vibe. Amidst all this, it's refreshing to come across a rapper who can rap like nobody's business and who uses their flow to perform breathtaking vocal gymnastics, throwing out bars left, right and centre with ease. It's this raw talent that has earned her a place on Forbes' '30 Under 30' list, two MOBO nominations, a shoutout from none other than the mighty Kendrick Lamar, and stints supporting Kano on his UK tour and Lauryn Hill on her North American tour.
But as well as being able to spit bars, she's a supremely talented writer with a skill for conjuring up vivid narratives that listeners find themselves drawn into. Unlike a lot of the usual mindless drudge which sees rappers bragging, stunting hard and talking about popping bottles, Simz actually has something meaningful to say. That's not to say that Simz can't stunt with the best of them; on the contrary, her self-assuredness and confidence in her abilities shines through her work but her more boastful tracks sit alongside tracks with socially conscious lyrics about a range of topics, including the plight of black people. Her debut album, A Curious Tales of Trials + Persons was a well-put together body of work that explored the struggles faced as an artist first starting to hit the big time, whilst Stillness in Wonderland is a concept album which likens the trappings and temptations of fame to the seemingly harmless delights that Alice encountered on her journey in Wonderland. Her skill in creating evocative stories that place the listener in her shoes and takes them along for the ride is reminiscent of the writing found on Illmatic, Channel Orange, Good Kid, M.A.A.D City; pretty impressive when you consider that she's only 22.
All of this is impressive in its own right but then things get pretty damn near unbelievable when you consider that Little Simz is a fully independent artist who runs her own label, AGE: 101 Music. She's managed to build herself up and get to a point where she's selling out shows and playing numerous festivals around the globe all on her own terms and without major label support. Moreover, she's managed to forge her own path as a woman in a typically male dominated industry and has done so without compromise or apology. It's no wonder that she frequently refers to herself as a king when she's managing to absolutely kill it. All of this at the age of TWENTY TWO. Just let that sink in for a second.
So, in spite of all of this, why haven't you heard of her? The mainstream music media doesn't give her much coverage and besides the two MOBO nominations, she's been criminally overlooked by the major awards shows. Her debut album won 'Independent Album of the Year' at last year's Association of Independent Music awards and even though awards aren't a good measure of success, she has yet to receive the attention that a big award win brings. Despite being at least as equally talented as artists like Stormzy and Skepta, she unfortunately doesn't have anywhere near their level of recognition. A major factor here is probably her unique style which eludes classification as part of the (typical) grime sound which has broken into the mainstream. Her style can't quite be pigeonholed and it seems as if UK audiences aren't quite ready for her forward-thinking style of rap; it's telling that she's describes herself as an "artist", shunning the label of a "female UK rapper".
Regardless of how well known she's been until this point, with the release of Stillness in Wonderland, Simz is demanding to no longer be ignored. Announced just a few days before its release at the beginning of December, Simz is a reminder that the early writing up of year-end 'best-of' lists is becoming a foolish endeavour. With Stillness in Wonderland, Simz shows that she is here to stay and stakes a real claim to having one of the best albums of 2016, right up there alongside the Chances, Franks, Solanges and many others who blessed us with excellent music in 2016.
The album has the listener follow Simz on her journey through Wonderland, with the ostensibly whimsical land serving as an extended metaphor for both the temptations of fame and the world that she inhabits in her mind. She deftly explores these concepts with a lyrical maturity well beyond her years, pairing her rhymes with woozy, atmospheric production that evokes the trippy, psychedelic nature of the Wonderland in Lewis Carroll's stories. Each track is consistently excellent and the organic nature of the album, with live instrumentation somewhat reminiscent of last year's To Pimp A Butterfly or this year's excellent Blank Face by ScHoolboy Q marks her out as a UK artist with a particularly distinctive sonic fingerprint.
Stillness in Wonderland outdoes its predecessor in its versatility and shows Simz' evolution as an artist. Radio-ready jams One In Rotation + Wide Awake, Shotgun with Syd of The Internet and Bad To The Bone with Bibi Bourelly (the writer of Rihanna's hit, 'Bitch Better Have My Money') are guaranteed to get her more attention, but are executed in a very idiosyncratic manner. For fans of posse cut bangers (who ISN'T a fan?), album standout King of Hearts shows Simz flexing and going hard, reeling off rapid fire raps against grime stalwarts Chip and Ghetts. She is fearsome on the track, straight up murdering the beat and 'showing no remorse to traitors'. You're left begging for more by the end of the trip through wonderland. At 44 minutes long, it's not short by any means; but the brilliance on show brings home that the possibilities are endless and that she is capable of putting out more incredible music.
Little Simz is fearlessly carving out her own path in the music industry, grinding her way to world domination and doing so her own way. The closest comparator to her would be Chance The Rapper; both of them are trailblazers, embracing their independence and refusing to do things in the established way. Much like Chance, Simz has a boldly ambitious vision that she's executing the way that she wants. There's nobody doing it quite like she is; accompanying Stillness in Wonderland were a short film (check the vid above), a comic-book (the first issue of which sold out in an hour) and a mini-festival set to take place at the Roundhouse with US rapper Mick Jenkins as the first announced act. Her hustle and commitment to her craft is admirable and the fact that, much like Chance, she's managed to pull all this off whilst facing the obstacles of independence in the music industry, is downright inspirational. The wider public may not have heard of Little Simz yet, but given that she hasn't even come close to hitting her peak and momentum is still building, it's only a matter of time before her name is on everyone's lips.
Author: Charles Olisanekwu