We're seeing a real moment of threaded themes of intention and social consciousness across several musical genres at present. In the ilk of pioneers like Donald Glover (aka Childish Gambino), Solange, J. Cole and Kendrick Lamar, there is a groundswell of emerging artists making music with purpose above all else. Chicago-based Soul singer Jamila Woods elevates Black womanhood, while Londoner Lemzi has earned a name for himself for rapping about knife crime. This strong motif of purpose fuels London-based New Yorker, Amyra, and is the thread that ties her several art forms together.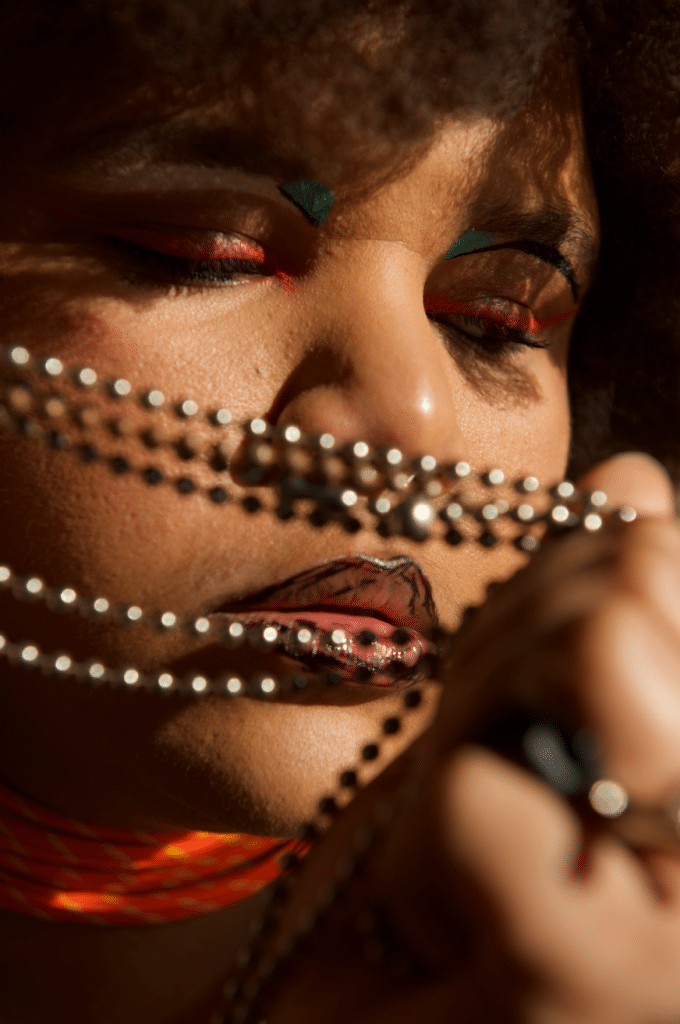 Singer, author, playwright, educator and activist, Amyra is a multifaceted artist who uses her voice as an instrument for change. 26 year-old Amyra's work is conscious without being preachy, a pure voice using her experiences as a call for change. Describing her work as 'catharsis', Amyra expresses her experiences as a Black woman through her artistry. And she's turning pain to action. Currently writing a book, performing a play titled VASELINE in London about the intricacies of Black womanhood. Amyra has now released her latest single GLOW ahead of her upcoming album WITNESS. This talented New Yorker is one to look out for.
GLOW is an emotional anthem that stemmed from an incident Amyra witnessed at 13 of the shooting of a 16-year-old boy across the street from her. The police took 4 hours to arrive on the scene, by which time the boy sadly passed. ''[This experience led me to question] how I, as a child, could build trust for the systems that have been built to protect me if I've constantly witnessed them let us down or let us die. GLOW speaks to that and asks where do we go from here, when our brothers are literally dying constantly and we are constantly being faced with the reality that we may not die of natural causes?''. GLOW is dedicated to the boy, his mother, and all of the other lives lost due to senseless violence who don't make the headlines.
"It's really special to me because the album is called WITNESS and it's all about my experience being raised in Harlem and navigating all the different tensions that came with being Black in my neighbourhood, in the world and being a woman everywhere. So Glow was the first song that made me say we need to make an album as well.''

The siren sound on GLOW resonates throughout the track and was improvised by Amyra and her friend, ATELLER, into the track's background. The sirens are assisted by a heavy bopping beat and rhyming sequence throughout.

"This experience led me to question how I, as a child, could build trust for the systems… I've constantly witnessed them let us down or let us die…"
"We deserve to look at our lives for what they are and be able to move forward with pride and healing. "
Growing up around the corner from the famous Apollo Theatre, Amyra was inspired by the weekly amateur night, with a variety of performers, including singers, dancers, comedians and more. Black political voices, such as Nina Simone, Ella Fitzgerald and Duke Ellington further motivated Amyra in her artistry. ''[They] created a space that made it easier for people like me to now do what they did, but with much more freedom. Growing up in this environment, you were surrounded by the Harlem renaissance. These artists were played constantly in my household''.
In spite of great musical potential, Amyra surprisingly only transitioned into a music five years ago. ''I didn't know I could sing'' she says ending with a chuckle. Prior to embarking on a music career, she was a spoken word artist having toured on Poetry Slams globally, including London, which helped grow her UK fan base as she's been consistently invited back.  
Although Amyra describes her work as ''super personal'', steeped in her own experiences, she also wants it to be an open invitation to listeners to not fear sitting with themselves. ''We deserve to look at our lives for what they are and be able to move forward with pride and healing. Especially with social media we can put on so many faces, and in all of that we can disappear the very reality that we are occupying. My work is very intentional and cathartic but I want to invite people to heal with me. Once we do the work of looking into ourselves, we can then invite our communities to come together and create lasting change. I want my work to create a space of longevity''.
On what we can expect from the WITNESS Amyra's debut album, she explains, ''I'm really excited. There's space to dance, which my music hasn't really done before, other than modern contemporary. There are gorgeous collaborations with people like Sarah Collins, a survivor of the 1963 Birmingham Bombings in Alabama and children from Brooklyn that I have been working with. There's really exciting invitations and witnesses on this piece, which I look forward to presenting as a whole body of work, because it's more than just me, you know? I brought the community in on this work, which is really exciting. We have some really gorgeous videos. It's a story of my life I am happy to release so I can continue experiencing the world in a way that allows me to be joyful.  It's a really sacred piece of work.''.
Adding to the many other work forms Amyra engages with, she is also an activist who leads many marches and workshops. ''I want to continue to invite my community of artists to understand what intention looks like and that although you may not be at the front of a march, your music [can] create a space for people to realise that there is actually something they can do.
Amyra is taking on industries with her words and melody. She has some children books coming out this year with Penguin, Walker and several other publications. ''You can invite yourself to be a part of anything that you want. You don't just have to be a poet or musician – but you can be anything you want to be. I've always be an artist and I plan on doing this for the rest of my life. But I think that possibility is something I had to create for myself because no one was telling me that you can make a living from being an artist. It was always like- you have to starve first and I do not believe in that. I continue to tell people if you don't believe in it, it won't happen. Live honestly in yourself and believe in yourself. If you believe in your work and you insist on it- regardless of the times, it will pick up'' Amyra encouragingly closes with.
Watching this true artist continue to unfold and grow across several fronts promises to be an enlightening journey. We are locked in for the ride.
Listen to GLOW down below and stream it on all major channels.
WITNESS is due to be released in the summer.
In the meantime, keep up with Amyra and all the amazing work she is doing on social media @amyraleon.