Watching the events of the past week has been hard for many of us. No one seriously believed that instances of black men dying at the hands of police brutality was a thing of the past, but it was a new low to be reeling from despair at one incident to wake up the next morning to another tragedy, this time with a child as a witness. The deaths of Alton Sterling and Philando Castile's represented new depths of the absurd for all right-thinking observers. It is quite frankly terrifying that each instance of police brutality against black men appears to be even more senseless in its brutality than the last.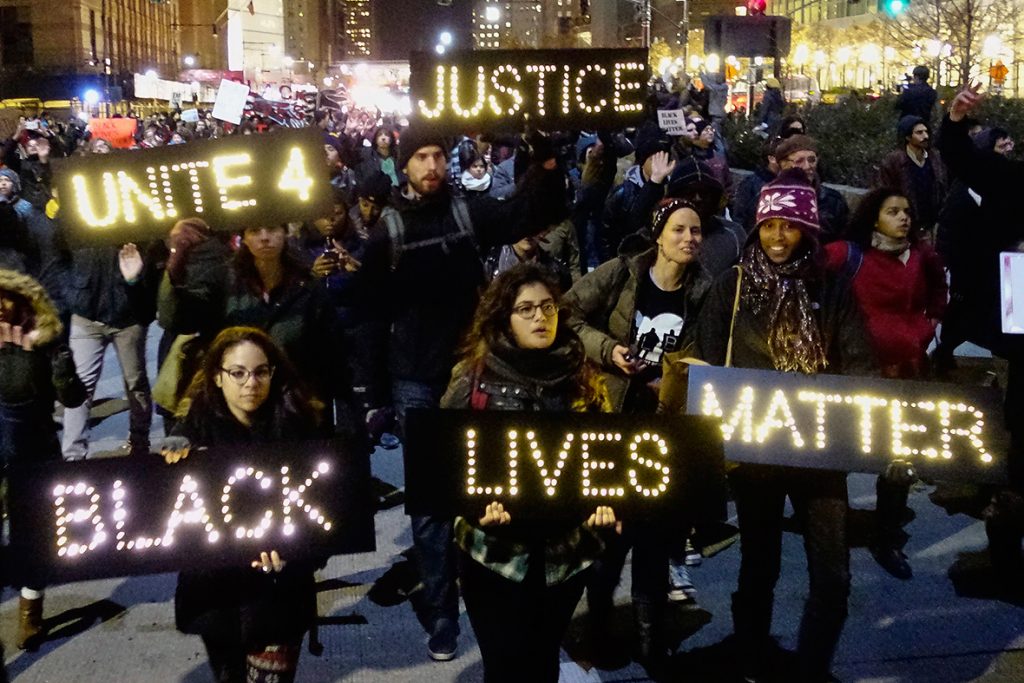 Black Lives Matter shouldn't be a 'thing' in 2016, but the unfortunate truth is that it is so chronically necessary. More so than ever, we are confronted with the reality that there is a crisis that needs to be addressed. The Blues Project stands in support of the Black Lives Matter movement and the thousands that have risked their lives and well-being in protest of this dangerous status quo. We all have a range of feelings about the situation from anger, to despair, to hopelessness, anguish, defiance and maybe even mis-directed hate sometimes. But we truly feel that music is not only an outlet for expressing these feelings, but a hugely significant voice for change. Several artists have voiced their protest in words and song, channeling their feelings through their art. We've created a playlist of these songs of hope and protest, for hope that this helps at least some people deal with their emotions.
But the gravity of the need for activism and the Black Lives Matter movement must not be underplayed. The poem below is a powerful reminder of this. Written by Sore Agbaje, The Blues Project is honoured to share this piece with you. Read and be encouraged, enlightened, empowered.
R.I.P Alton Sterling, Philando Castile and the thousands of black men that have fallen victim to police brutality.
---
*Yea though I walk through the valley of the shadow of death Black and breathing
Praise God in the Chapel
I still fear evil
Though God be with me*
———————————————————————————————————–
The bullet confuses my womb for a casket
Speaks in a tongue of genocide
Bullet ask me how I black and love
How I give my unborn child a hashtag before a name
Love not just the flesh but the bones of him
Bullet think me reckless
Calls my love the blueprint to a funeral
Like I don't watch the news
Don't know that this is a black hole
That sun and gun stick to melanin the same
Bullet tells me about the rain
How it swells the gutters
Washes away the silent sins of a shot like the black body's blood was never there
Because the black body's blood was never there
At least that's what the headlines read
Bullet announces himself as a holy house of history
Gives my breath a name
Calls it a consignment shop mistakes my body as a chewing stick
As though a temple forgot to be divine
If I die in police custody I am afraid these poems will be mistaken as a suicide wish
If they dare speak my history silent
Tell them I was an anthem of praise
Black woman learning to reclaim space:
I said to the doors closed in my face, "unhinge yourself, I belong here"
If I die in police custody tell them every breath I took was a howl at the wind
I will not give in to genocide
I will not give in to genocide
I will not give in to genocide
I will not give in to genocide
I will not give in to genocide
Silence in the face of oppression is violence
Your silence aids and abets genocide
Your silence makes you a war criminal
---